Graduate Degree Program: Master of Music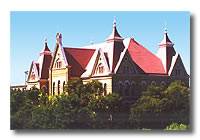 Texas State University is located approximately half an hour from Austin and San Antonio in the beautiful Texas Hill Country and is home to over 38,000 students including over 550 music majors. Accredited by the National Association of Schools of Music (NASM), Texas State University's School of Music offers graduate work leading to Master of Music degrees and a comprehensive array of ensembles.
The Master of Music - Music Education and Master of Music - Music are both 36-hour programs with a set number of hours in music core, major area, and elective credits related to the major area. Also offered are opportunities for independent studies with professors in their areas of specialization.
All concentrations are listed below and links to degree outlines are located on the right hand side of the page. Prospective Students should also visit the Graduate College MUS page if interested in a M.M. – Music degree program or the Graduate College MUSED page if interested in a M.M. – Music Education degree program.
M.M. - Music Education
The Master of Music with a major in Music Education requires final research / teaching projects.
M.M. - Music Concentrations
Choral Conducting
Composition
Instrumental Conducting
Jazz Music Performance
Keyboard, String, or Guitar Performance
Latin Music Performance

Salsa Track
Mariachi Track

Music History/Literature
Music Theory
Performance and Pedagogy
Vocal Performance
Woodwind, Brass, or Percussion Performance
All performance and conducting concentrations require a final graduate recital.
The music history/literature and music theory concentrations require a thesis.
The composition concentration require the development of a portfolio of original music, including solo, chamber, orchestral, and electronic pieces; one major original work must be submitted with an accompanying critical analysis to make up the requisite final project.
Contact the Associate Director for Graduate Studies for additional information.
Dr. Nico Schüler
512.245.3395
Mailing Address:
Associate Director for Graduate Studies
School of Music
601 University Dr
San Marcos, TX 78666